NIHR Receives Delegation from Northern Ireland Cooperation Overseas (NICO)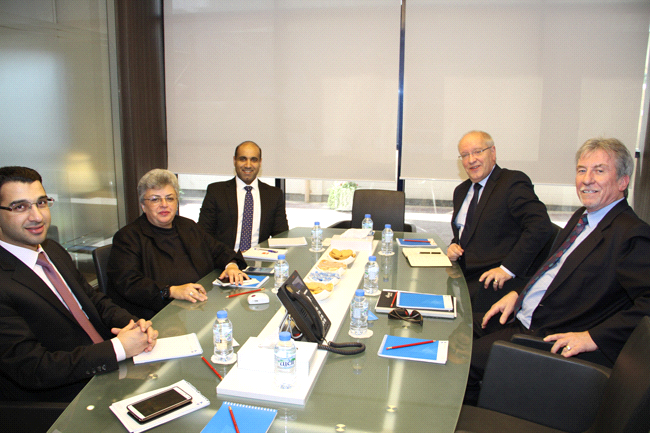 Within the context of cooperation between the NIHR and international organizations working in the field of human rights; Ms. Maria Khouri, Member of the NIHR Council of Commissioners and Chairperson of NIHR's Complaints, Monitoring and Follow-up Committee, met at the NIHR headquarters in the Seef District a delegation comprising two training experts from Northern Ireland Cooperation Overseas (NICO); Mr. Terry Jackson, an expert on criminal justice and Mr. Austin Hunter, a media expert
At the beginning of the meeting, HE Ms. Maria Khouri welcomed the (NICO) delegation and briefed them on the role played by the NIHR in enhancing and protecting human rights. She also highlighted the situations of human rights in the Kingdom of Bahrain and the role of NIHR in addressing such human rights issues in accordance with the mandates entrusted to it.
The meeting discussed aspects of joint cooperation between the National Institution and Northern Ireland Cooperation Overseas (NICO) in the field of human rights and exchange of experiences.
On their part, the visiting delegation commended the role played by the NIHR in disseminating the culture of human rights, stressing the importance of enhancing cooperation between both parties in the field of exchanging experiences and providing consultations that support the work of the NIHR in the field of human rights. The visiting delegation expressed its willingness to cooperate on capacity building through training programs and other support mechanisms in various aspects of development to achieve social stability and security.
The meeting was attended by Mr. Fahd Abdullah Al Moali, Director of Information and Communication Technology and Mr. jasem Al Bahar, Director of Training and Education.